Jeannie Moreno
Associate Attorney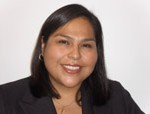 Jeannie Moreno grew up in East Los Angeles, California. Ms. Moreno graduated from Garfield High School and was a proud student of Bolivian educator, Jaime Escalante, who became well known for teaching students calculus from 1974 to 1991 at Garfield High School. Garfield High School and Mr. Escalante provided the inspiration for the 1988 film entitled Stand and Deliver. Following Mr. Escalante's unfortunate death from cancer in 2010, Ms. Moreno paid tribute to her former teacher, Mr. Escalante, at their old school in East Los Angeles.
Ms. Moreno graduated from Occidental College with a Bachelor's degree in Psychology and Sociology. While in college, Ms. Moreno volunteered with the VISTO program counseling troubled teens facing drug and gang related issues. She thereafter traveled to the State of Washington to attend law school and obtain her J.D. degree. As a member in good standing with the State Bar of California, Ms. Moreno aggressively represents family law clients, yet she retains a strong sensitivity to their individual needs.
Jeannie M. Moreno was the founding member of the Latino Law Students Association in law school. Ms. Moreno also competed in the ATLA Mock Trial competitions and was the Academic Standards Representative for the Student Bar Association. As an avid supporter of Aids Project Los Angeles (APLA), Ms. Moreno volunteered in the legal department helping AIDS stricken patients draft their last will and testament. Ms. Moreno has also volunteered in their Buddy Program offering assistance to an AIDS patient she was paired with.
Currently, Jeannie M. Moreno is a member of the VIP Mentor program where she counsels and guides recent parolees. Ms. Moreno joined Castellanos & Associates, APLC in 2001. Ms. Moreno is committed to taking the time needed for each individual case ranging from simple to complex. Ms. Moreno devotes her legal career 100% to family law related cases. A majority of Castellanos & Associates, APLC client base is derived from referrals from former satisfied clients.